Tourists visiting Cu Lao Cham (Cham Islands) in the central province of Quang Nam now can see creatures and coral reefs in the seabed thanks to a new service launched by a local tourist company, the Quan Doi Nhan Dan (People's Army) newspaper reported.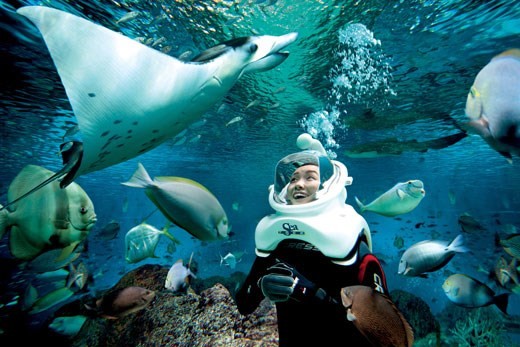 A tourist enjoys seeing creatures in the seabed of Cu Lao Cham (Source: culaochamtourist.com.vn)
The Cham Island Tourist Co Ltd in Hoi An was granted permission to launch the seabed walking service in late April and began to serve tourists on May 1. The tour costs about 9.65 million VND (42.5 USD) per person.
Covering a total area of 15 square kilometres, Cu Lao Cham is a cluster of eight islands, namely Hon Lao, Hon Dai, Hon Mo, Hon Kho Me, Hon Kho Con, Hon La, Hon Tai and Hon Ong.
Visitors can participate in a number of tours in Cu Lao Cham such as discovering the systems of caves, springs and rocks; snorkeling and watching coral and colorful fish in Bai Bac and Hon Dai; boat rowing; and visiting Huong fishing village or swimming.
With its diverse eco-system and multi-hundred-year-old historical sites, Cu Lao Cham was officially recognised as a World Biosphere Reserve by UNESCO in May 2009.-VNA