The city of Da Lat is in its heydays with its 2007 Flower Festival running over December 15-22 with blooming flowers everywhere.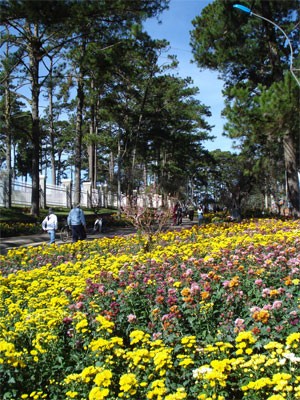 Flowers in the streets of Da Lat (Photo: Thuy Hang)
This year's festival presents more diverse and large-scale activities than the previous festival, said organizers at a recent press conference.

Themed "Da Lat Flowers, I Love You!", the festival opened in the evening of December 15 in a brilliant ceremony.
The event began with a parade of six giant cart wheels decorated in myriad flowers representing the city's six most renowned flower villages before thousands of residents and tourists from all over the country.

The streets of Da Lat were soon crowded with spectators flocking to the city's central square to watch 20-minute fireworks display in the sparkling night.

An international flower exhibition introduces the nation's most famous flower-growing regions and showcases more than 5,000 native and imported species from seven other countries, including the Netherlands, China, Japan, the Republic of Korea, Thailand, Belgium and Denmark.
The show is an opportunity for more than 100 businesses from 24 provinces and cities across the country and foreign enterprises to exchange experience and present their products to partners. It is also a good chance to boost cooperation in the flower growing industry among participating nations.

Some 114 couples also tied the knot yesterday in a Flower Wedding themed "Journey to Happiness" in the Da Lat Sofitel Hotel. They exchanged rings, drank champagne, danced and kissed in an outdoor stage, forming a heart-shaped ring in the grass. (The reason the number 114 is chosen is that 2007 marks the 114th anniversary of the founding of Da Lat.)
The newly weds had a chance to take photos and make video clips with a 42m-long wedding dress and a pair of candles weighing some three tons.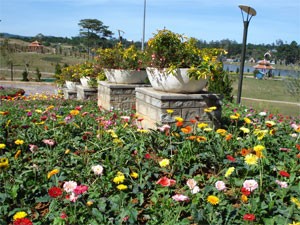 Flowers blossom around Xuan Huong Lake in Da Lat (Photo: Thuy Hang)
A street festival themed "Festival – Smiles of Flowers" also took place in front of the Da Lat square on the evening of the same day.
Participants are also to be treated to a procession of cars decorated in flowers, a parade of contestants from the Miss Ethnic Viet Nam beauty pageant, and a gongs performance by 500 artists.
The special feature of this year's festival is to be Miss Viet Nam Ethnicities 2007, the first beauty pageant for women from different ethic groups throughout the country.
As part of the festival, a wine party is to be held on December 20, offering participants more than 8,000 liters of wine free of charge.
Lam Dong Foodstuffs Joint Stock Co., Da Lat Beverage Joint Stock Company, Vinh Tien Company Ltd., and Cau Dat Tea Factory are to each supply 2,000 liters of wine.
Other activities are to include trade and cuisine fairs and bike and champagne festival days.