A seminar January 3 in the central resort town of Da Lat highlighted the importance of developing ecotourism in conjunction with the region's flower-growing capacity.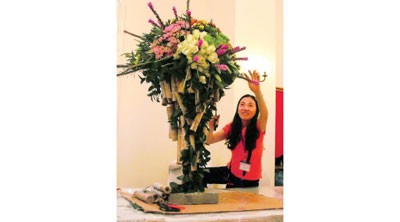 European floral arrangement at is presented at Sofitel Dalat Palace
Ideas for capitalizing on the area's vast blossoms to boost tourism were presented at the annual Da Lat Flower Festival in the province of Lam Dong.
The application of high technology in agriculture, especially in planting vegetables and flowers, has been increasing in Da Lat over the past five years.
At present, Da Lat has greenhouses with automatic water supply systems covering more than 1,500 hectares.
In addition, new technology has been applied to Da Lat flower production in manufacturing new materials and creating over 60 different varieties of daisies, 20 kinds of roses, and hundreds of orchids.
Over 10 million flower seeds are sold at home and abroad each year at one-third the price of imported seeds, said Mr. Nguyen Van An, director of the Lam Dong Province Department of Agriculture and Rural Development.
Many flower production companies including Dalat Hasfarm, Bonie Farm, Rung Hoa Da Lat (DaLat flower forest), Huong Sac Da Lat (Da Lat fragrance and beauty) and Dai Viet, all which specialize in growing high-quality flowers, have been successful in building brand names and securing regular customers.
In addition, smaller family-based flower growing operations such as Quynh De, Sang Coi, Trung Phuong, and Huong Duong have earned VND1 billion (US$50,000) per hectare per year.
Da Lat also wants to become a high-quality tourism destination by offering a variety of new entertainment, recreation and healthcare services.
Outdoor excursions through the forest and flower gardens have now become especially popular.
According to Ms. Nguyen Thi Nguyen, deputy director of the Lam Dong Province Department of Culture, Sport and Tourism, ecotourism has become big business in Sapa, Hoi An and Mekong Delta provinces, but Da Lat city still hasn't reached its full potential.
Dr. Pham S., director of the Lam Dong Province Department of Science and Technology, said local authorities should prioritize development of more flower villages to attract tourists; upgrade walkways that cross through flower fields; design greenhouses to ensure aesthetic quality; and call on residents and investors to become involved in ecotourism efforts.
The Central Highlands province of Lam Dong recently recognized Thai Phien flower village in Da Lat City's Ward 12 as the first traditional trade village in the province.
The provincial government hopes the village will become a hub for flower growers to exchange products and information, and become an attractive destination for visitors, said Chairman of Da Lat City's Ward 12 People's Committee M. Nguyen Dinh Huong. 
Leading Dutch florist Mr. Aart Jan Schep also traveled to Da Lat to introduce the art of European flower arrangements at Sofitel Dalat Palace on January 3. The event was organized by Dalat Hasfarm Agrivina Ltd. and Sofitel Dalat Palace with support of the Dutch Embassy in Hanoi.
Related aticles:
Traditional flower village recognized in Da Lat
Giant flower picture sets Vietnamese record at Da Lat festival
VN's largest dragons to make splash at flower fest
Da Lat to hold third international flower festival in 2010