The lover's city, Da Lat, not only presents beautiful and romantic landscapes, it also gives adventurers opportunities to explore, with a series of spectacular waterfalls, tall and dangerous cliffs, and forests to be discovered.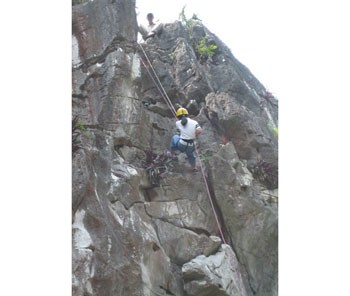 A visitor is climbing up a cliff
Adventurers can hike a ten kilometer route at the foot of Prenn pass and difficult trails through the forest.
To finish the journey, visitors will also climb up five cliffs, reaching between seven and 25 meters in height.
This tour has attracts around 1,000 visitors a year. The price is just US$35 per foreigner and VND350,000 for Vietnamese.
Camping tours are also a leading choice for groups, which often have 20 to 300 campers, especially Vietnamese.
The tour introduces Da Lat's famous landscapes, such as Langbian Mountain, Tuyen Lam Lake, Love Valley and the Highland's special ethnic culture to tourists.
According to the director of Hoi Huu Da Lat Phattireventuers, his firm also organizes teambuilding exercises.
Beside these adventurous tours, there are also other activities, including trekking, biking, rock-climbing, and other central Highland discovery tours.