"The country has only two national architectural heritage sites, the cities of Da Lat and Hue," Mr. Nguyen Hong Quan, the Minister of Construction told a seminar entitled "Planning and Developing Da Lat into a modern characteristic city" in Da Lat Wednesday. "Da Lat will be planned as a modern city which is more beautiful, while retaining its characteristics," he added.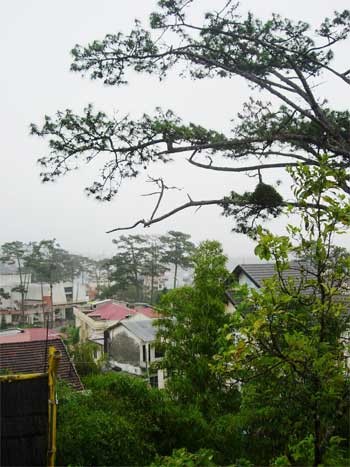 Morning at Da Lat City (Photo:KK)
The seminar received 15 reports and opinions that emphasized that the features typical of Da Lat's architecture as a highland resort center and launched plans to developing the city until 2020.
The experts stressed that the authorities should focus on exploiting forest, which is regarded as the natural resource of the highland city. It makes Da Lat different from other cities nationwide. The city will take this as one of its best advantages to find a way to developing and promoting tourism.
Urban planning must be in harmony with natural landscape such as hills, valleys and pine forests, said architect Khuong Van Muoi, deputy chairman of the Viet Nam Architects Association.
Construction has been limited from three to five storeys to conserve the scenery.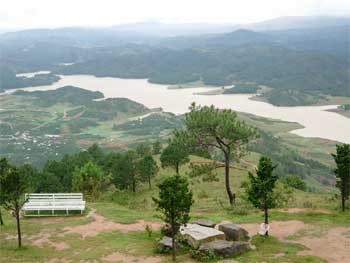 A valley is seen from the Lang Biang Mountain top. (Photo:KK)
The local authorities should also limit strange architectures with metal materials and help Da lat develop into a university city, Silicon Valley, international conference and convention center, a resort center for tourists and biotechnological industries producing commercial vegetables and flowers, added Dr. Luu Duc Hai, director of Department of Urban Development of the Ministry of Construction.
The People's Committee of Lam Dong Province, Ho Chi Minh City University of Architecture, experts of the Viet Nam Architects Association, Lam Dong Department of Construction and Minister of Construction Nguyen Hong Quan participated in the seminar.