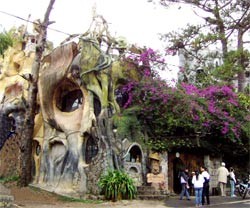 Crazy House's outlook (Photo: Tuong Thuy)
Dalat, Vietnam's "city of flowers," is known as the country's romantic honeymoon capital with its lovely French villas nestled among lush forests, beautiful waterfalls and gorgeous lakes, but one unique guesthouse adds a rare and eccentric take on natural beauty.
Dalat's Hang Nga Guesthouse, deemed by locals "The Crazy House," opened in 1990 and is indeed a strange and off the wall variation on natural aesthetics that began as one woman's personal project and is now a tourist destination.
The house has few right angles with unexpected twists and turns at every corner. The misshapen windows make it look like a fairy tale house, as friendly stone animals—a bear, giraffe, and spider—linger around the premises. Small ponds and mushroom statues also adorn the outside of the house.
For a small fee the guesthouse can be visited like a museum.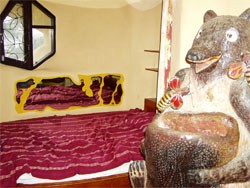 Inside a room of the Crazy House (Photo: Tuong Thuy)
The outside of the building looks like a tree with trunks and branches built to look like they are growing along the walls, making it more of a house-tree than a tree-house.
This is not something that most tourists, both foreign and domestic, expect to find in Vietnam.
The architect of the flower city's small wonder is Ms Dang Viet Nga. "I am an adventurous person, I do what I want," said Ms. Viet Nga. She began building the house on her own but saw opportunity when the house received local attention.
"Many visitors came after the pools and statues were built," she said. "So I stated collecting fees to visit the house and continued building. Now, my 5-story "tree house" is more popular than the 5-level hotel next door"
Her creative ideas have distinguished the house from all others in Dalat. She notes that the natural surrounding inspired the design. "Living in the Da Lat, the surrounding wilderness inspired me to focus on nature," she said, adding that in the past, people lived closer to nature, and as a result, closer and more harmoniously with each other.
Visitors too have been inspired by Mrs. Nga's creation, such as one French tourist who left a rather moving note in the guesthouse's visitor's log: "Thanks for showing me the meaning of life. The fairy tale house returned me to my childhood, to when things were pure and natural."