The first international fireworks competition ever held in Viet Nam drew to a close on Friday on the banks of the Han River in the central city of Da Nang.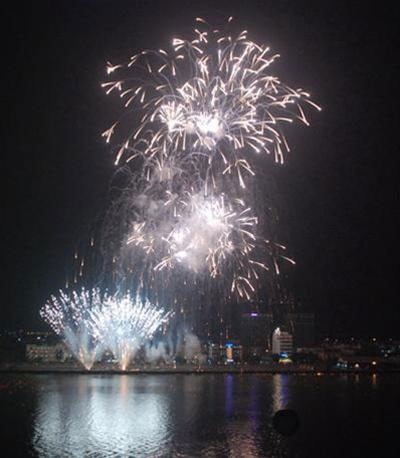 Fireworks display by the Canadian team (Photo: Tuoi Tre)
The two-day contest concluded with firework displays by two teams from Canada and Malaysia. The Canadian team put on an impressive show with images of stars, comets and Saturn rings, accompanied by modern music.
Meanwhile, the Malaysian team displayed beautiful images to the theme of "Da Nang smiles", which made the city's sky a fanciful paradise.

The previous day, the host country, Viet Nam kicked off the contest with its show entitled "The Fairies' Dance", which tells of the legends about the fairies on Da Nang beach. It also expressed aspirations of love and happiness through images of "hearts", "smiles", and "butterflies". The second show was "Da Nang's New Day" and the third show was "Going to the Land of Festivals".

The team from Hong Kong made a strong impression on the spectators. Their show began with a message about the 2008 Beijing Olympics with images of "2008" and "888" and "Olympic circles".

The top three winners were Canada, Hong Kong (China) and Malaysia respectively, while the host received a consolation prize.

More than ten thousand Vietnamese and foreign visitors flocked to the Han River to enjoy the magnificent firework displays as they illuminated the skyline of Da Nang. Organizers said they will hold the Da Nang International Fireworks Competition (DIFC) annually from this year forward.

Teams from Canada, Hong Kong (China) and Malaysia were permitted to transport fireworks through the Da Nang Sea Port, and were charged no tax on the goods. Along with the host, Da Nang team, they had 20 minutes to put on a performance at night along the Han River.