More than 5,000 copies of the tourism code of conduct in Chinese language, issued by the central coastal city of Da Nang, will be distributed free at public places like airport, station, tourist attractions and hotels in the coming time, the municipal Department of Tourism said on July 13.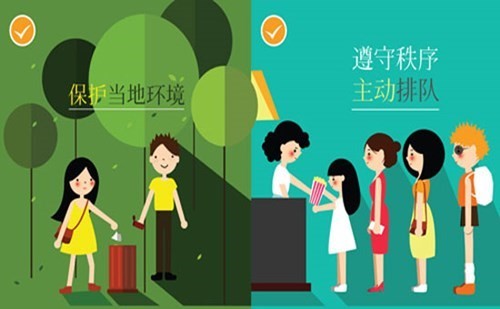 One illustration in the tourism code of conduct in Chinese language (Photo: anninhthudo.vn)
The Chinese version of the do's and don'ts for visitors to Da Nang is translated from the local tourism industry's code of conduct published in January this year, which aims to maintain the city's reputation as a safe and hospitable destination for both local and foreign visitors.
The guide includes 12 friendly and well-designed illustrations, which are considered as a pocket handbook for both locals and those who make holiday in the tourism hub city.
The code of conduct requires individuals and organisations working in tourism industry to respect vacationers and treat them with friendly and hospitable attitude. They must be honest and helpful to tourists.
Service providers are ordered not to disturb holiday-makers and rip them off.
Local residents must be respectful and enthusiastic when in contact with visitors and not destroy the city's nature or tourist attractions.
Meanwhile, tourists are asked to respect the city's culture, customs and traditions and avoid damaging public assets and tourism spots.
Da Nang city has seen a significant increase in Chinese tourist arrivals over the last few years. It welcomed an estimated 211,000 Chinese visitors in the first half of 2016, up 83 percent against the same period last year.
On June 14, a Chinese man, Hou Genshun, burned a Vietnamese dong note in a Da Nang bar, severely violating Vietnamese law. He was deported two days later.-VNA