Da Nang is creating what it calls "shopping streets" in the thoroughfares between the Hung Vuong-Phan Chau Trinh and Hung Vuong-Pham Ngu Lao intersections in the hope of luring more tourists into the central coast city's downtown area.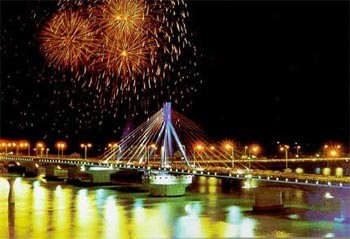 Song Han Bridge in Da Nang City
Starting in December, the easier regulations in the special zone in Hai Chau District will apply every Saturday and Sunday evening.
The stores taking part will pay sales tax but no other local taxes as long as they pledge to abide by the city's trading regulations.
Da Nang's tax office and trade department will check the participating shops and compile a report on their local tax payments.
The city will contribute money by covering some of the cost of decorating the streets and shops.