Viet Nam's next National Tourism Year will be staged in the Central Highlands province of Dak Lak, home to many fascinating waterfalls, large lakes and primeval forests.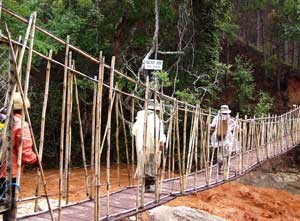 Local residents pass a wooden suspension bridge over a stream in Dak Lak Province (Photo: Tuong Thuy)
The central government has approved a Dak Lak proposal to host the 2009 National Tourism Year to further tap the province's high tourism potential.
The provincial administration says it has accumulated lots of experience after hosting major tourism events such as the Central Highlands Festival, the Gong Festival, and the Buon Ma Thuot Coffee Festival in recent years.
The tourist attractions there include waterfalls such as Dray Sap, Gia Long, Trinh Nu, Krong Kmar, Bay Nhanh, Thuy Tien, Ba Tang, and large lakes (Lak, Ea Kao, Ea Don and others), which are suitable for sailing, surfing, fishing, and other activities.
Travelers can also visit primeval forests with a diversified ecological system and many species in Yok Don National Park, or the national reserves of Nam Nung and Ta Dung. The provincial capital, Buon Ma Thuot City, is the coffee center of Viet Nam, which is the world's second biggest coffee exporter after Brazil.
Dak Lak is home to various ethnic minority groups including Ede, M'nong, Ba Na, Gia Rai, and Se Dang.
The Viet Nam National Administration of Tourism will work with the provincial administration and Vietnamese tourism companies to map out and carry out plans and programs for the 2009 National Tourism Year.
At present, the 2008 National Tourism Year is taking place in the Mekong Delta in the south. Can Tho City hosted the opening week of the year-long program in late February, and the start attracted almost 300,000 visitors.