Deputy Chairwoman of People's Committee in the highlands province of Dak Nong Ton Nu Ngoc Hanh talked about preservation and development of culture and festivals of ethnic minority groups in the province as well as promotion for tourism on the occasion of Lieng Nung festival 2017.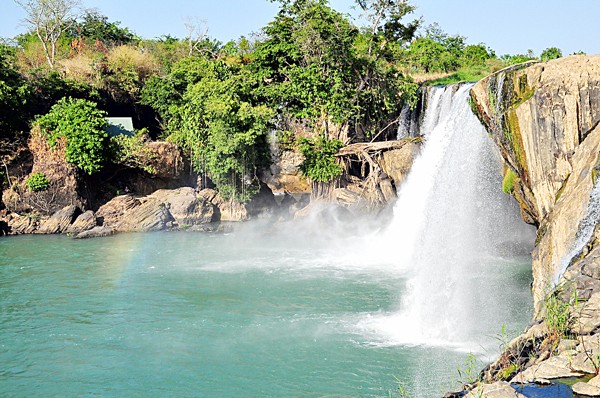 Well-known waterfall Dray Nu in Dak Nong Province (Photo: SGGP)
The festival is a time for people of all ethnic minority groups to meet and increase mutual understanding and strengthen solidarity amongst groups in the province; accordingly the festival has activities suiting with all groups' culture and tradition, especially performance of healthy rituals of Ma group.

The festival taking  place in February 11 and 12 in Dak Nia Commune in Gia Nghia Town include festive activities and rituals. Jun Jong and healthy rituals  of Ma groups were performed and displays of photos, specialties and special textile of ethnic minority group to promote tourism; street festival, street music, weaving, gui knitting and traditional musical competitions,  folk games.

The province has 40 ethnic minority groups with quintessential cultural forms. Therefore, authority has set up project to keep the traditionally cultures of these groups including organizing 68 classes to teach how to play cong-chieng- musical instruments of ethnic groups and six other fresher courses as well as restore 50 rituals and folk songs, weaving techniques.

People's Committee submitted the project to the Ministry of Culture, Sports and Tourisms for the period 2015 – 2020 focusing preserving and developing cultural heritage in order to attract tourists to the province and honoring old artisans. In 2015, 22 artisans were awarded the title good artisans

Notably, the province has magnificent waterfalls like Dray Sap, Gia Long, Trinh Nu in Cu Jut District, Luu Ly, Len Gun  in Dak Song District, Lieng Nung, Ba Tang, Co Tien in Gia Nghia Town, Dak G'lun, Dak Buk So in Tuy Duc District. Especially, authority is finishing document for UNESCO –recognized geographic park for the cave network in the province's Krong No District.

Moreover, the province has historical sites including Dak Mil prison, revolutionary base B4 and other sites in the French war which are recognized as the national sites. The province poured investment in Nam Nung ecological-cultural-historical tourist site, LIeng Nung entertainment park, Ta Dung Cultural Site and tourism site along Serepok River.

The province also promoted cooperation with neighboring provinces for tourism growth. From 2011 to 2015, around 843,000 visitors arrived in the province earning  more than VND113 billion.

The province will call for more investment and sources into beautiful sites for tourism development.