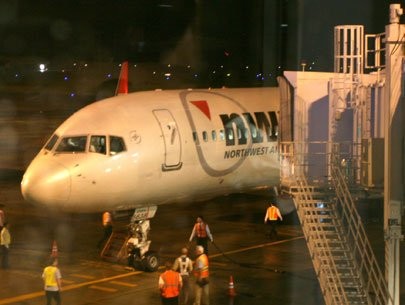 A Northwest Airlines plane seen at Tan Son Nhat Airport in Ho Chi Minh City. Northwest under Delta Air Lines will stop its HCM City-Tokyo route on March 27, 2010 (Photo: Thoi Bao Kinh Te Saigon Online)
American carrier Delta Air Lines has announced its wholly subsidiary Northwest Airlines would discontinue flights to Ho Chi Minh City via Tokyo, effective from March 27, 2010.
On January 1, the flight frequency decreased from seven days a week to four days – Mondays, Wednesdays, Fridays and Saturdays.
Explaining the reason, the world leading airline said in a statement that "the global economic downturn has made the company to make decision to restructure the Pacific network plan for next summer schedule."
The carrier said Delta/ Northwest customers would continue to have uninterrupted access to Vietnam via SkyTeam partners to their destinations in the US. Delta added that "the alternative flights will be informed to you soonest."

"For passengers who have been ticketed to travel on Delta and Northwest for the flights after March 27, 2010, we will re-accommodate them to the partners' alternative flights and will inform to agents and passengers accordingly," Delta said in the statement.

Delta has plans to join code-share flights with Vietnam Airlines, which also operates the Ho Chi Minh City-Tokyo route, according to Delta's sales representative in Vietnam, East Sea Travel Group.
Delta became the second US airline to fly to HCM City in June 2009, five years after United Airlines, which launched its Vietnam service in Dec. 2004.
United has transported more than 700,000 passengers in the past five years, contributing into fostering trade and tourism ties between the two countries, said Ms. Clodelsa Ty, United country manager in Vietnam.
The carrier said it has recorded average yearly growth of 20% in passenger traffic to Vietnam over the past five years.