The national air carrier Vietnam Airlines (VNA) has just announced that it will stop exploiting ten flights departing from and arriving  to Hai Phong's Cat Bi International Airport and Thanh Hoa's Tho Xuan Airport on August 19 because of the influence of on- going storm Dianmu.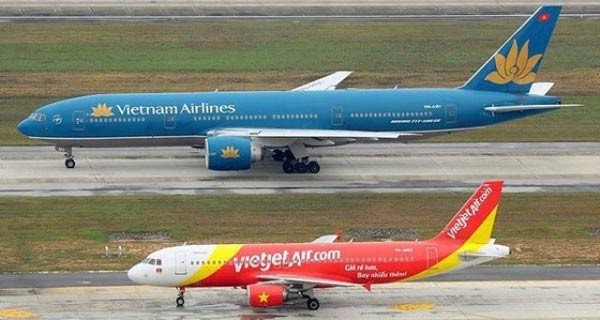 Many domestic flights are canceled due to typhoon Dianmu. (Photo:SGGP)
Due to the bad weather, six flights connecting between Ho Chi Minh City/ Nha Trang/ Da Nang and Hai Phong and four flights linking between HCMC and Thanh Hoa were canceled or delayed.
Vietnam Airlines decided to not exploit two flights followings Da Nang- Pleiku air route.
Cheap air carrier- Vietjet also canceled respectively flights from HCMC/ Nha Trang to Thanh Hoa and vice versa.
Some flights leaving and departing Cat Bi (Hai Phong) will change to another air route to Noi Bai International Airport in Hanoi.
At present, air carriers reschedule travel time, repay ticket for their passengers etc etc…
By August 19, VNA will increase two more flights from Da Nang to Pleiku, and four flights from Hanoi to HCMC/ Da Nang.
Tomorrow, the national carrier is scheduled to increase two flights from HCMC to Thanh Hoa and vice versa.