A large number of visitors have turned their back on domestic airplane tour when prices increased 30-35 percent, after Vietnam Airlines halted the discounted airfares they had been offering previously from July 1 to August 15.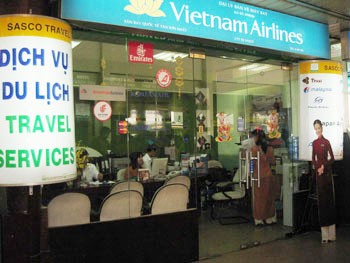 Vietnam Airlines halts the discounted airfares from July 1 to August 15.  (Photo: KK)
Customers have switched to cheap tours of Cambodia, Thailand and Singapore, all of which have many interesting activities, according to travel companies in HCM City.
Mr. Tran The Dung, deputy head of the HCM City group of the domestic tourism promotion program, said that the group sold airplane tours to 2,089 visitors in July; in June the group sold tours to 4,052 tourists. Most of them booked tours in May and June before the national flag carrier stopped offering discounted airfares.
Saigontourist sold Thailand tours to 541 travelers and Cambodia tours to more than 1,500 travelers in July, those numbers representing increases of 15 and 30 percent respectively, compared with June.
According to Viet Media Travel Corporation, the company received 60 overland visitors to Laos per week in July, twice as many as they received in June.