Vietnam's tourism industry needs more qualified staff, especially at the supervisory or higher levels, a conference in Ho Chi Minh City heard on Thursday.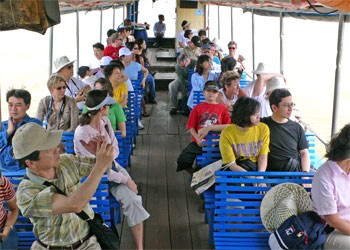 Tourists on a trip to the Mekong Delta (Photo: Hoang Yen)
The conference discussed ways to ensure the quality of tourism in Vietnam and develop human resources in this industry. 
The Vietnam National Administration of Tourism informed the meeting that it estimated the number of visitors to Vietnam had increased 17 by times between 1990 and 2007, from 250,000 to 4.2 million.  
The growth in human resources for the industry has also been exponential, from 20,000 employees in 1990 to one million in 2007, or fifty times up.  
But the need for skilled managerial cadre is still high, the administration said. 
A survey found that the country has 40 universities with bachelor courses in hospitality management and about 83 colleges and intermediate vocational schools with lower-level courses. These institutions added tens of thousand of new employees per year to the tourism workforce.  
However, the new graduates and diploma holders have just basic knowledge and not much practical experience. Therefore, they find it difficult initially to solve real problems that arise. 
"Another recent survey found that the only 30 percent of the employees in the industry finished courses from the regular system or were trained seriously by the official standards of the administration," said Nguyen Manh Cuong, Deputy Director of the administration.  
"Thus, the service quality of the industry is much lower than in other regional countries." 
The administration estimates that by 2015, the industry will require at least 1.5-2 million employees to serve increasing number of visitors.