Extra fees will be charged for visitors at Dong Loc T-Junction site in Ha Tinh Province starting March 21, according to site management board.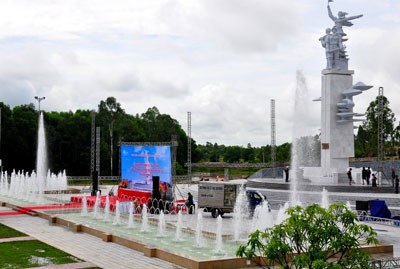 The victory monument at Dong Loc T-Junction(Photo: SGGP)
Fees for a guide, flower offerings, documentary screenings and other cost VND 10,000 per person. Parking fees range from VND 2,000 to VND 25,000 depending on the vehicle.
People recognized for revolutionary service, heroic mothers, veterans, people with disabilities, children under 15 years old, and citizens awarded with Hero of the People's Armed Forces and Hero of Labor awards will receive free admission and a discount on entrance fees.
The site welcomed more than 300,000 visitors in 2013. It played a vital role in transportation of necessary ammunition from north to south during the war. It is famous for the story of 10 female martyrs who sacrificed their lives to ensure transportation of important materials on the Ho Chi Minh Trail on July 24, 1968.
From 1965-1968, the US army dropped nearly 50,000 bombs and fired tens of thousands of missiles on the T-Junction in the hopes of cutting off the transport route to the southern front.