The low fare Jetstar airline, a subsidiary of Australia's Quantas Group, will start a two-way air service between Ho Chi Minh City (HCMC) and Sydney from November 30, with a special price of US$30 for one-way direct flights from HCMC to Sydney.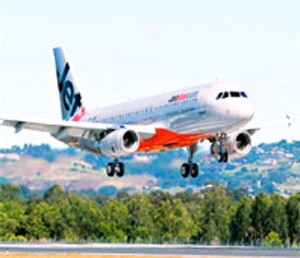 Jetstar airline will offer HCMC-Sydney flights with a special price of US$30
Director of Holiday Tours and Travel Agent, General Agent of Jetstar in Viet Nam, Ngo My Hanh said Jetstar is a value based airline. It plans to operate long-distance flights with a 306-seat Airbus A330.
Jetstar is waiting for a permit from the Viet Nam Civil Aviation Department to offer three HCMC-Sydney (and Sydney-HCMC) flights a week.
Its first flight will depart from HCMC on November 23, 2006. Customers can book tickets for flights to Sydney and from Sydney to cities of Australia and New Zealand at website www.jetstar.com or contact R.102 at Sai Gon Trade Center (37 Ton Duc Thang, District 1, HCMC).
About the information on a promotional program that Jetstar is offering a special price of US$30 for HCMC-Sydney flights, Ms. Hanh said the promotional price of US$30 is included in Jetstar's global promotional program. This price is also available for customers in Viet Nam, but the number of tickets is limited and they were quickly sold out in three days (July 26-28).
Jetstar has over 10 classes of ticket depending on ticket buying conditions (late or early purchase and other added services on the airplane).
The lowest fare ticket for one-way HCMC-Sydney flights booked on the net is US$250 without a tax of US$94 and US$214 for round flights, including an airport tax in Australia. It is US$268 for one-way ticket bought at agents.
The prices are only for the airplane seat, for other services such as food and drink, customers have to pay. The minimum price of food and drink is US$10.
Those who book a ticket early will be offered a good class seat at a low price.