Provincial authorities from 10 East Asian countries signed several agreements to develop tourism, especially by air and water, at the 9th East Asia Inter-Regional Tourism Forum (EATOF) held on September 8 and 9 in Gangwon, Korea.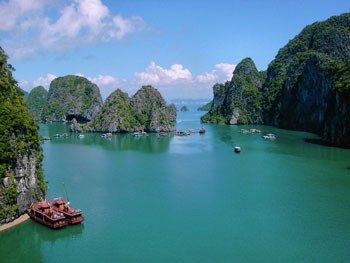 Ha Long Bay, Vietnam's most famous World Heritage site in Quang Ninh Province.
Delegates agreed to vote for Vietnam's Halong Bay as one of the world's seven natural wonders, add two more members -- Lao's Luang Prabang and Cambodia's Siem Reap -- and chose Vietnam's Quang Ninh Province to be the host of the 10th EATOF next year.
Established in 2000, the EATOF groups Cebu (Philippines), Chiang Mai (Thailand), Gangwon (the Republic of Korea), Jilin (China), Primorsky (Russia), Quang Ninh (Vietnam), Sarawak (Malaysia), Tottori (Japan), Tuv (Mongolia), and Yogyakarta (Indonesia.)