The city of Da Nang in central Viet Nam will host a regional event called "East-West Economic Corridor Week" from August 29 to September 3.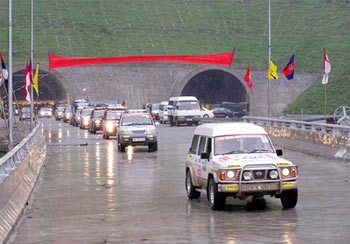 The caravan of cars go through the Hai Van tunnel
The activities planned for the six days include a tourism and trade fair, art and culture shows and exhibitions, and a forum to discuss investment, trade and tourism cooperation among the four countries through which the 1,450-kilometer corridor passes – Thailand, Myanmar, Laos and Viet Nam.
Local and foreign travel firms will use the occasion to advertise their increasingly popular caravan tours along the corridor.
One of the week's highlights will be the first-ever international East West Economic Corridor Fair, to be held over five days at the Da Nang Fair and Exhibition Centre, an official of the Da Nang Department of Commerce said.

The aim of the fair is to enhance cooperation, investment, trade and tourism in the four nations for their mutual benefit, he said.

It will also be an opportunity for East-West Economic Corridor (EWEC) localities and enterprises to get together and look for business opportunities in education, training, health care and entertainment.

Besides the four EWEC nations, representatives of countries that have diplomatic ties with Da Nang will be in attendance, such as Japan, China, Singapore and the USA, along with international organizations like JICA, JETRO and the ADB.
Since the opening of the Huu Nghi 2 Bridge connecting Mukdahan in Thailand and Savannakhet in Laos, trade among the EWEC nations has improved considerably, as has economic cooperation in general.
Most notably, there has been a surge in the number of Thai tourists coming to the central region of Viet Nam on caravan tours.
Japan is involved in a big way through funding several big construction projects such as Hai Van Tunnel and the Huu Nghi 2 Bridge.
Its next step is to increase the amount of Japanese ODA (official development assistance) given to Laos, Viet Nam and Cambodia, and the region as a whole over the next three years.
The Japanese government recently pledged to give U$D40 million to help the four EWEC countries catch up with the developed nations in the ASEAN region. Half of the money will be used to support the economic triangle of Cambodia, Laos and Viet Nam.