The "Week of Malaysian Food" will be held at the five-star Majestic Hotel in Ho Chi Minh City from January 26 to February 1.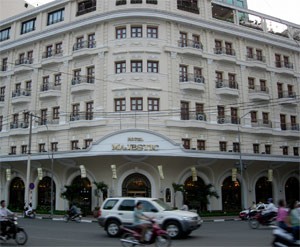 The Majestic Hotel  (Photo:KK).
Visitors will have the chance to discover and enjoy specialties from 13 different areas in Malaysia, including seafood curry, rice mixed salads, grilled fish sauce Chilli Sambal, spicy chicken sauce tomato and more.
Malaysian food is a combination of various flavors from China, India, Nyonya and others and used fresh and natural materials. The food usually tastes hot, greasy and sweet.
Deputy chief chef Mozart Muhamad will present daily buffets from 6 pm to 9.30 pm at a cost of US$20 per person.