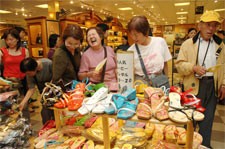 Foreign tourists go shopping in HCMC
The project on developing human resources for Viet Nam's tourism from now to 2008 will receive an investment of EUR12 million, of which EUR10.8 million is sponsored by the EU and EUR1.2 million contributed by the Vietnamese government, according to Viet Nam National Administration of Tourism (VNAT).
The project will focus on training human resources to improve the quality of the Vietnamese tourism in order to meet the demands of foreign tourists.
As pointed out in the development strategy of the tourism sector, Viet Nam will aim at the main 15 markets such as Japan, China, the United States, and Russian Federation.