With mounting tension for EURO 2012 reaching fever pitch, VietJet Air is launching a special promotion that will be available only during a three-hour period every night next week offering 5,000 tickets for just VND299,000 ($14) per ticket, up for grabs.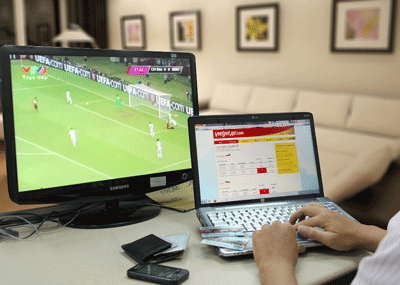 A customer searches for cheap air fares on VietJet Air
The sale will be on from 9pm till midnight from June 25 to July 1 – perfect for football fans waiting for the final matches next week or anyone wishing to travel to one of Vietnam's leading destinations on VietJet Air.

To avail of these heavily discounted fares just click on www.vietjetair.com for the following routes: Ho Chi Minh City-Hanoi; Ho Chi Minh City-Da Nang; Hanoi-Da Nang (for flights between August 15-November 15, 2012); and soon-to-be launched Ho Chi Minh City-Hai Phong route (for flights between October 1-November 15, 2012).

Payments can be made via Visa or Master Card or in cash at ticket offices and all HDBank branches.
Further information on new services, flight schedules and more promotions log onto www.vietjetair.com or contact VietJet Air booking agencies, ticket offices and HDBank branches nationwide or just call 1900 1886.