The traditional culinary arts of 14 countries, including Viet Nam, France, Japan, India, the Philippines and several others, will be introduced in the 2006 Food Festival by more than 20 well-known restaurants in Ho Chi Minh City at the Van Thanh tourist area on December 1 to 3.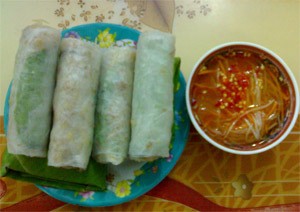 Spring rolls  (Goi cuon)  (Photo:KK)
Especially, a new Viet Nam's record of spring roll (Goi Cuon), 5 centimeters in width, 100 meters in length, and 65 kilos in weight, will be made by 220 cooks of the Sai Gon Professional Cook Club in 30 minutes.
The festival is organized by the Ho Chi Minh City's Department of Tourism, Department of Foreign Affairs, Department of Culture and Information, and Saigontourist.
Those who enjoy specific flavors of the European food prepared by talented cooks from five-star hotels including Caravelle, Park Hyatt, Sofitel Plaza and Windsor, can come to the second European Food Festival at Euro Villa, the representative office of the European Committee at 257- Hoang Van Thu Street – Tan Binh District in HCMC, on December 2. The main beverages are Tiger beer, juices of Le Fruit and Orangina, and wine of Red Apro and Smirnoff.
The European Food Festival will also be boisterous with the Latin band The Burned, the Philippines' Asian Rebel and Vietnamese artist Mai Dinh Toi, who has been thrilling audiences for years with his wacky and innovative musical instruments fashioned out of everyday objects like bowls, bottles, neon lights, and other things. A ticket costs VND160, 000 and there is no admission charge for children under twelve.