"Can Tho has waterways characteristics", said Professor of Architecture and Urbanism Kelly Shanno of Belgium who has successfully earned his doctorate on planning the southern province Can Tho. "All year round four primitive islets on Can Tho namely Au, Khuong, Son, Tan Loc have freshwater."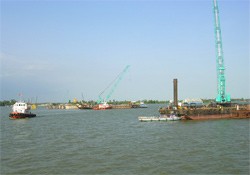 Can Tho bridge is underway(photo:ND)
A Japanese investor intends to build a retirement village for senior people in 80 ha Con Son islet in An Thoi District, saying that they can earn a lot selling fresh air.
An American of Vietnamese origin and a Chinese company are fond of 100 hectare Au islet in the confluence of Hau River although some tourist projects are already underway.
Khuong islet of 200 hectare has become attractive land for tourist investment. Nearly 60% of bridges across the islet have been built, and in the second quarter of the year, VND 60 billion will be provided for internal road construction thanks to funds raised from a program to support tourism infrastructure building. The provision of infrastructures has prompted investors to flock in.
Villages, resorts and hotels have been built in the south side of the Khuong islet. A 80 hectare plot of land is ear-marked for a recreation project, one of the biggest in Southeast Asia, with investment up to thousands of billions of VND.
Director of Can Tho Tourism Department Dinh Viet Khanh said the number of tourists are increasing by 15% year-on-year. In 2005, out of 500,000 tourists who stayed here were more than 100,000 foreign tourists; meanwhile, An Giang received over two million visitors per year but only more than 100,000 stayed.
Out of 97 hotels in Can Tho with tourism standards, 23 are one-star to four-star with 2,200 rooms. Domestic and foreign investors have pre-empted the day when this land becomes first-grade town.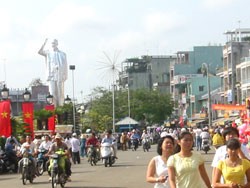 Ninh Kieu wharf
General Director of Sai Gon Tourist Company Do Hoai Huong suggested building an extension to the Sai Gon – Can Tho hotel and a five-star hotel with over 300 rooms for meetings, seminars and international fairs at the same time.
Vietnam Airlines has set up its branch here for international flights. Eden Company. working in overseas national currency exchange and setting up recreation facilities in Ho Chi Minh City, provides deluxe services such as building first-grade houses, resorts, recreation areas. A new tourist wharf in Can Tho will be started on April 30 of this year.
The participation of non-state sectors in tourism has brought a new breath for the "hospitality industry". My Khanh resort village and Thuy Tien resorts have expanded their area. The owner of Bang Lang garden for storks will build a crocodile breeding farm.
Viet Nam National Administration of Tourism has chosen Can Tho for the venue of the National Tourist Year 2008 with the theme "Traveling in Cuu Long (Mekong) waterways"; Can Tho will thus have some other good news at the same time such as the opening of a new Can Tho airport, the Can Tho bridge, the upgrade to first-grade city – "These are the favorable conditions to hold this festival," said Mr. Khanh emphasizing that it is expected that interesting programs in the festival will attract many tourists.
The organizers are awaiting the government's decision but the work is underway.