A display of tourism, camping, means of transportation, and equipment entitled "Tourism and Camping Asia" will take place at the Giang Vo Exhibition Center at 148 Giang Vo Street in Ha Noi from April 20 to 24.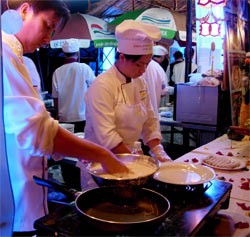 Cooks of restaurants and hotels will vie with each other for "Golden chopsticks" award. (Photo:KK)
The show will be attended by local and foreign travel agents, hotels, restaurants, and transportation companies. 
The exhibition brings a display of recreational activities to the audience and will include musical performances, game shows, and a cooking contest.

There will be awards for participants vying for the titles of "Impressive destination 2007", "Impressive travel agent 2007", "Friendly hotel", "Golden chopsticks", and more.
The exhibition is being co-organized by the Viet Nam National Administration of Tourism and the International Fair and Communication Company Limited (GFC).

Contact GFC on the 5th floor of 73 Nguyen Hong Street in the Dong Da Distrcit of Ha Noi or call 04-7763547 to get more information.