An Giang Province is located in the southwestern area of Viet Nam, bordering Cambodia to the northwest. Many tourists have reportedly been stunned by beautiful mountains and rivers, endless green fields and river-floating villages around An Giang.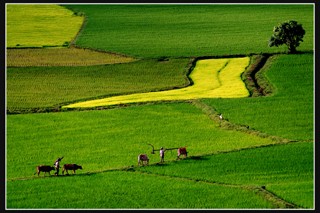 Beautiful green fields are easily found in An Giang Province

Coming to the town of Chau Doc, tourists will have a chance to visit Chau Phu Temple honoring Nguyen Huu Canh, who set up the first administrative mechanism in this southern land. The temple was built over 100 years ago with nice and imposing architecture. Its roof is covered with red double tiles and the statues of eight fairies and two dragons on the top.

Vinh Te Canal in Chau Doc was built from 1819 to 1824 by 80,000 laborers. It is 90 kilometers long linking Chau Doc to Ha Tien and running into the bay of Thailand. To commemorate the general who contributed the most to the construction of the canal, Thoai Ngoc Hau, local people named the mountain Thoai Son.

Returning to Long Xuyen, tourists can visit the house of the late President Ton Duc Thang where he lived during his childhood in Ong Ho Isle (in the capital city Long Xuyen) and his memorial. Many foreign visitors are also attracted by a kind of "homestay tour" (the tour including sightseeing and staying at the local houses). They really enjoy touring around by bicycle and delicious food such as catfish or "lau mam" (a kind of traditional soup) and spending one night in a farmer's house.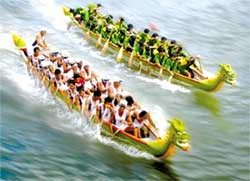 A boat race on the river
If any one feels like coming to the forest or going to the river, you can choose a boat tour along Hau River to visit fish-farming or Cham brocade-weaving villages in Chau Phong Commune, try cooking Palmyra sugar or wander in Tra Su cajuput forest to watch 62 species of birds and storks.

After going sightseeing on the river, hunting rats in the green field, picking flowers and pulling fishing-nets with the farmers of Long Xuyen Quadrangle, tourists can visit the archaeological site of Oc Eo culture to find the traces of old Phu Nam Kingdom. Later, you come back to Chau Doc and enter Ba Chua Xu Temple, where you can go to Cambodia by land routes.

Every year, An Giang Province welcomes more than three million tourists coming to the sites and also to Tuyet Trong crocodile farm, Mubarak mosque, Cham village, Xa Ton Khmer pagoda and Tay An ancient pagoda.
Related links:
http://www.saigonnet.vn/dulich/tinhthanh/angiang/00angiang.htm
http://www.angiang.gov.vn/ageng/xemtin.asp?idcha=1192&cap=2&id=1193