Hanoi-based Signatures of Asia Co., Ltd has just renewed a website to promote golf in Vietnam – an all-about-golf webpage that includes the selling of Vietnam golf packages.
The company has more than ten years of knowledge and expertise in the travel, tourism and golf business.
VietnamGolfTours.com is a one-stop shop that covers all the vacation requirements of a golf tourist. It can help golfers find best accommodations, make transport arrangements, learn about the different golfing destinations in the country and book Vietnam golf courses, discover tourist attractions in the country and help them visit places of interest.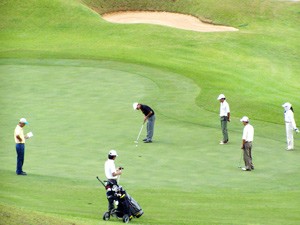 Golfers at Dalat Palace Golf Club in the central upland city of Dalat (Photo: Tuong Thuy)
The website also provides tips on the best places to eat, shopping experiences, the nightlife of bustling Ho Chi Minh City and helps them select their golfing gifts.
It introduces various golf packages that will keep the tourists at the best hotels in HCMC, Hanoi, Halong, Danang, Hoi An, Nha Trang, Dalat, Phan Thiet and Mui Ne, Vung Tau, Can Tho – the cities home to the country's best golf courses.
"Our golf travel signature is the personal touch, at all stages of your golf tour, from the initial planning through to when you board your plane back home," said company managing director Anh Nguyen.
Phan Thiet and Mui Ne, 200 kilometers plus north of HCMC, houses Ocean Dunes Golf Club designed by Sir Nick Faldo, and Sea Links Golf & Country Club, where the designers are Ronald Fream and Golfplan Company. Ocean Dunes turns 15 years old this year.
Golf courses in HCMC and the neighboring provinces of Binh Duong and Dong Nai include Vietnam Golf and Country Club, Long Thanh Golf and Country Club, Song Be Golf and Country Club, Dong Nai Golf Club.
Meanwhile, Danang on the central coast is known with two golf properties by Greg Norman and Colin Mongtgomerie – Danang Golf Club and Mongtgomerie Links Vietnam.
Hanoi in the north and nearby localities are home to 10 or so golf courses such as King's Island, Chi Linh Star, Phoenix, Dai Lai Star, Hanoi Golf Club, Heron Lake, Van Tri, Tam Dao, and Royal Golf Resort Ninh Binh.
All information and details about the golf properties are available on VietnamGolfTours.com.
For example, it offers golf packages of three, four, five or seven days in HCMC, or in the city and Dalat, or HCMC and Phan Thiet/Mui Ne, or a 10-day package for both Hanoi and HCMC.
Taking a seven-day package for HCMC and Dalat, the tour will begin in Saigon and end in the upland city with rates starting at US$735, and the golfers will play four round. Email to book at info@vietnamgolftours.com.vn.
Managing director Anh Nguyen added his company also planned and organized golf tours and vacations to other regional countries such as Thailand, Malaysia, Indonesia, Singapore and Cambodia.