International professional and amateur athletes and foreigners working in Viet Nam took part in the last day of Madagui Trophy 2008 on Sunday held at the Madagui Tourist Park in Da Huoai District of Lam Dong Province in the Central Highlands.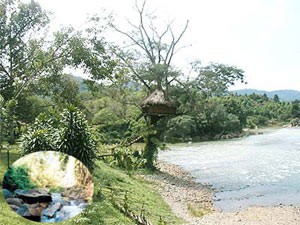 A stream in Madagui
The two-day Madagui Trophy 2008 was an extreme sports contest. It will be followed up with tourist-oriented events organized by Vietadventure Co. on March 25-26. This event aims to promote extreme sports and images of Viet Nam to international tourists.
 
Over 100 athletes from Europe and Asia, as well as foreigners working in Viet Nam, competed in two different triathlon contests, one for professionals and the other for amateurs. The contests consisted of a BMX freestyle motorbike, sailing across a stream, and a running race. 
 
The Madagui Trophy was one of the biggest sports contests and tourist events ever organized in Viet Nam. A portion of the profits gained from the event will be donated to a community project designed to protect and develop the national forest system. 
 
The Madagui Tourist Park located on Highway 20 between Ho Chi Minh City to Da Lat. As part of the Nam Cat Tien Forest, Madagui has a thick vegetation cover characteristic of tropical rain forests. It is an ideal place for camping and exploring neglected caves and tropical rain forests.