Ninh Thuan's 2007 festival, themed "Ninh Thuan with Hidden Colors," will be held at the center of the town of Phan Rang and adjacent areas in the province from August 15 to 21, according to the People's Committee of Ninh Thuan Province at a press conference in Ho Chi Minh City last week.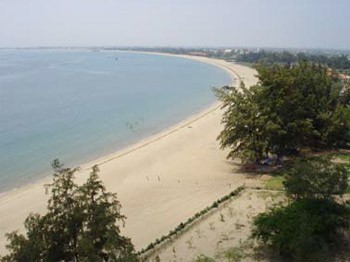 Ninh Chu beach
The event aims to boost Ninh Thuan's sea tourism and cultural identity, and to introduce to visitors beautiful beaches such as Ninh Chu, Ca Na, Vinh Hy, Mui Dinh, and Binh Tien, and the Cham people's ancient towers.

The show will be a rendezvous for provinces in the southeastern and coastal central regions, the Central Highlands, as well as HCM City. It is also an event for local and foreign investors and enterprises looking for business and investment opportunities.

Additional activities will include a tourism development conference, musical performances, trade and food fairs, a vintage wine festival, a volleyball competition, a dragon boat race, motorbike racing on sand – and a sheep contest.

The festival will receive participation by more than 250 artists of art troupes nationwide.

The organizers are also preparing thousands of well-equipped hotel rooms and will offer visitors tours to the province's hot tourist destinations and traditional craft villages such as Bau Truc pottery village and My Nghiep brocade weaving village.