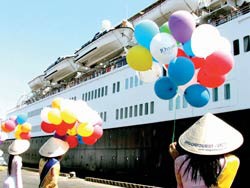 At the welcoming-ceremony
Fist time the European Cruise Ship Costa Allegra with 1,250 visitors arrived in Viet Nam on May 25, 2006. Saigontourist will supply the whole maritime and tourism services.
Costa Allegra is one of the ten high-class cruise ships owned by Costa Crociere S.p.A, a biggest shipping company in Italia and Europe.

The Costa Allegra departed from Savona port in Italia on April 30 and started the 30-day trip to Hong Kong and crossed the Suez Canal to Yemen, Oman, India, Sri Lanka, Thailand, Singapore and Viet Nam. The cruise ship will end its trip in Hong Kong, and then the visitors will take a flight back to Italia.

Saigontourist welcoming-ceremony at Saigon Port featured a traditional art performance and was attended by representatives of Tourism Department of Ho Chi Minh City and Saigontourist Holding Company.

The visitors will be divided into four groups to take part in city tours which were designed according to their age and interest.

They will visit the Museum of Vietnamese History, War Remnants Museum, Notre Dame Cathedral, Saigon Post, Ben Thanh Market, Thien Hau Pagoda and go on a sightseeing tour of Chinatown by cyclo. Besides they will also visit HCMC's surroundings, such as My Tho City and Cu Chi Tunnels.

The Cruise Ship Costa Allegra with the tonnage of 28,500 tons and the maximum capacity of 1,000 passengers and the crew of 500 was launched in 1992. Costa Allegra primarily services European visitors with the long sea journeys of 15- 16 days, departing from Hong Kong and Bombay.

The cruise ship will land at HCMC, Nha Trang and Da Nang in 2006. After the arrival on May 25, Costa Allegra will come back to HCMC on June 2 and 27, 2006.