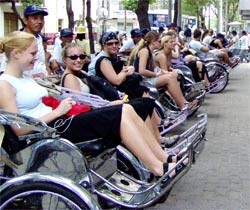 Foreign tourists in Ho Chi Minh City (Photo: Tuong Thuy)
A centre to provide information on tourism and related services, the first of its kind in Viet Nam, was inaugurated in Ho Chi Minh City on Sept. 23 to assist foreign visitors.
The Tourism Information Centre (TIC) will provide tourists with free information about tours to cultural and historical sites, historic events in Viet Nam during the year and information about the scenic attractions of different regions.
The TIC will also provide local tourists with professional services, including domestic and foreign tours, and the booking of plane tickets and hotel rooms.
Geeshah Perry, TIC managing director, said the centre had been established in anticipation of Viet Nam's admission to the World Trade Organization.