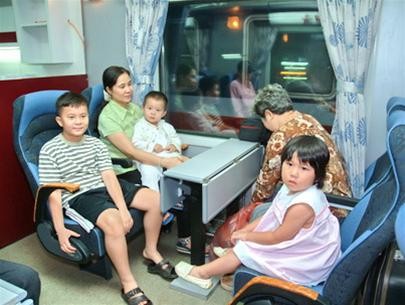 A family takes the first trip to Nha Trang on the Five Star Express (Photo: Tuoi Tre)
The Five Star Express took 332 passengers on its first journey from Ho Chi Minh City to Nha Trang on Sunday morning, and returned to Ho Chi Minh on the same day with 150 passengers.
The special train is a VND20-billion joint venture between Saigon Railway Transport Company and Truong Sinh Advertising Company that has been two years in the planning.
Besides six well-appointed passenger carriages, the Five Star Express has two lounge cars, a restaurant car and a baggage van.
One of the passengers, Mr. Hwang Sung Won from Korea, was declared to be Nha Trang's one-millionth visitor when he arrived in the coastal city.