On October 4, Air Asia will inaugurate a service between Ha Noi and Kuala Lumpur for which a one-way ticket will cost just US$15 and could drop to US$9.99 later on if the airline's chairman, Mr. Tony Fermandes, gets his wish granted.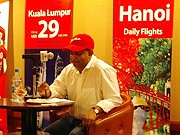 Mr Tony Fermandes, Air Asia's chairman
Asked by this reporter how Air Asia could cope with charging US$9.99 for a flight to Malaysia, Mr. Fermandes says the number of flights will be increased to three maybe four daily, therefore the airline's costs will go down. Also, the trip only takes 25 minutes.
Secondly, Air Asia will sell meals and snacks rather than including them in the ticket price. Thirdly, seats will not be allocated but simply taken by the passengers on a first-come-first-serve basis.
Fourthly, Air Asia will not supply a physical ticket; passengers will merely register for a seat. "If the expense of a ticket is one dollar, then 70 million passengers will save us US$70 million," Mr. Fermandes points out.
If every one of your planes makes several flights a day, might that not affect safety?
Fermandes: We always abide by international air regulations and are controlled by Malaysia's Civil Air Transport Department. Air Asia will use A320 planes for the budget flights.
How does one buy Air Asia's cheapest tickets?
Fermandes: Like with other budget airlines, the price goes down as the date of the flight approaches, and you cannot change a ticket before 48 hours have elapsed. At present, a ticket costs between US$29 and US$39. To get the cheapest one, you must book two weeks ahead.
Why do budget airlines like Air Asia, Thai Airway and Tiger opt for Ha Noi rather than Ho Chi Minh City for their flights?
We want to open a service to Ho Chi Minh City and hope that Air Asia will get a license for this soon. Air Asia is looking forward to having low-income passengers who cannot afford an expensive airline.
Related article: