Vietnam welcomed over 3 million foreign tourists in the first four months of 2014, a surge of 27.3 percent over the same period last year, according to the General Statistics Office.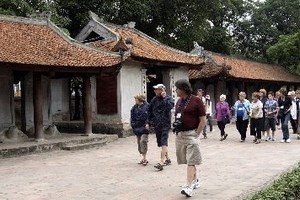 Foreign tourists visit the Temple of Literature (Van Mieu) in Hanoi (Photo: VNA)
Visitors from Hong Kong topped the list with the highest rise of 170.2 percent, followed by Germany (114.5 percent), and China (46.9 percent).
In April alone, the country greeted 745,980 overseas visitors, a year-on-year increase of 5.1 percent.
The tourism sector plans to serve 8 million foreign and 37.5 million domestic tourists this year, grossing 230 billion VND (10.8 million USD) in revenue.
In 2013, Vietnam received 7,572,352 foreign tourists, a yearly rise of 10.6 percent, paying 200 trillion VND (9.4 billion USD) to the state coffers.
The Ministry of Culture, Sports and Tourism has devised a plan on improving tourism products and service quality to be carried out this year. It is organising the National Tourism Year 2014, highlighting the Central Highland province of Lam Dong.
The ministry is also gearing up for the National Tourism Year 2015 in central Thanh Hoa province.