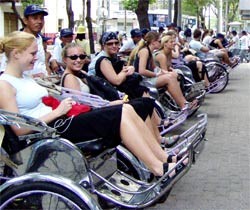 More and more foreign tourists flock into Viet Nam (Photo: Tuong Thuy)
Saigontourist has catered to 6,000 foreign tourists in November, an increase of 30 percent year-on-year.
Fiditourist, also based in Ho Chi Minh City, has looked after nearly 3,200 foreign travelers this month, 35 percent more than 12 months ago.
The number of Russians visiting Viet Nam this year has grown by 54 percent, easily the biggest increase of any nationality, followed by China, up 38 percent, and Korea, 30 percent.
Two million of the foreigners have included Ho Chi Minh City in their itineraries, an increase of 13 percent on 2005.
Americans are the commonest form of foreign tourist in the city this year, followed in order by Taiwanese, Koreans, Australians, Chinese, the French, Malaysians, Singaporeans and Canadians.