The Noi Bai International Airport received over 1,000 foreign holidaymakers during the first three days of the Lunar New Year (Tet) festival, according to the airport's Border Customs Agency.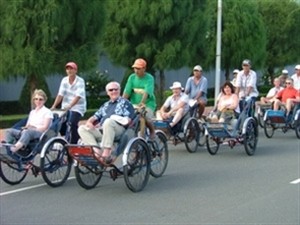 Foreign tourists enjoy cycle tour.
Travelers were mostly from Europe and overseas Vietnamese who visited their homeland for the Tet holiday.
On the occasion, the airport's 82 flights brought nearly 8,000 visitors to countries and territories worldwide.
Meanwhile, the number of tourists to Hue on these days increased sharply, reaching about 50,000, some 20,000 higher than last year.
A large number of arrivals came from European countries, Japan and Thailand .
The ancient capital city celebrated the Tet festival with a wide range of activities and festivals launched in different localities, opening an array of this year's cultural, sports and tourism events to welcome the National Tourism Year to be organised in the city in 2012.
Tourism destinations of the Hue 's relic site opened for free during the first three days of the Lunar New Year.