Tourism officials from countries in the Greater Mekong subregion have gathered in Da Nang to discuss creating a common destination.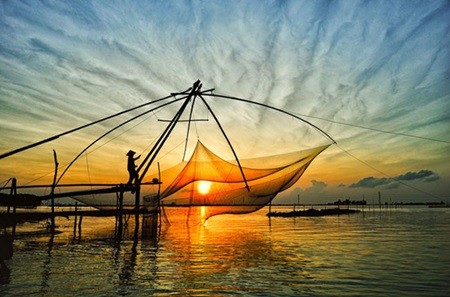 A Vietnamese drawcard: Sunset in the southern province of An Giang. (Photo kolor.com.vn)
Viet Nam, Laos, Cambodia, Myanmar, Thailand and China will work closely together to make the region an attractive venue for visitors around the world.
Last year, the region received 54 million visits, accounting for 20 per cent of tourists in Asia and the Pacific region.
They spent a total of US$61 billion, which was significant in overcoming poverty and developing economics in the region, particularly through tourism, which created jobs for millions of residents.
By 2020, tourism in the region expects 70 million visitors a year to bring in US$90 billion.
To achieve this goal, tourism sectors in the five countries and the Chinese provinces of Yunan and Guangdong will work together.
According to Le Khanh Hai, deputy minister of Culture, Sports and Tourism, Viet Nam borders Laos, Cambodia and China, making it a convenient arrival place for visitors to the region.
Speaking at the Mekong Tourism Forum's symposium held in Da Nang yesterday, Hai highlighted huge the potential for Viet Nam. During the forum's technical meetings from June 15-17, about 600 participants from the region's tourist authorities suggested several ways of making the region a common destination.
This included a regional marketing programme and a master action plan for the whole region.
Participants also agreed to create a central tourism office to represent the entire region.
Deputy Minister Hai suggested fostering public-private partnership in tourism.
Chris Bottrill from Canada-based Capilano University recommended the promotion of responsible tourism among residents in the region.
He also promoted community-based tourism to create sustainable humanity values.
Representatives from social network Facebook and travel publications like TripAdvisor encouraged promotion campaigns on mobile phones, smart phones, social network and magazines.