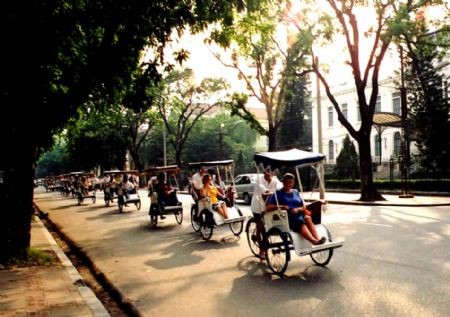 Foreign visitors go sightseeing in Hanoi (File photo)

Foreign visitors to Vietnam in August and September would receive free visa, according to the Vietnam National Administration of Tourism.
The authority said they would also receive value added tax refund when they buy goods in Vietnam.
In addition, a promotion campaign with reduction of 10-40 percent on goods prices would be run at the same time in Hanoi, Danang, and Ho Chi Minh City.
A forecast by the authority said that the 1,000th anniversary of Thang Long – Hanoi, which will take place on October 10, would attract a large number of visitors to Hanoi and northern provinces.
Hanoitourist Travel director Luu Duc Ke said that during the peak period of the anniversary, the hotel system in Hanoi would be preferentially used to serve invited guests, and delegates from other provinces, and other foreign countries.
So, to prevent a shortage of rooms or the overloaded situation, Hanoitourist and other travel companies have designed suitable routes so that visitors would rest in other neighboring provinces.
It is expected that the number of customers of Hanoitourist will rise to around 10,000 on this occasion, 10 times higher than normal, of which domestic visitors account the most.
Vietnam Airlines will continue to implement the campaign to stimulate domestic tourism demand. The fares from southern and central provinces to the north will be cut by 30-35 percent.