Despite a decade of development, the Mekong Delta's tourism industry has failed to show robust growth. Uninspired tourist packages, limited advertising, a lack of tourism investment promotion and poor human resources training, all plague the industry.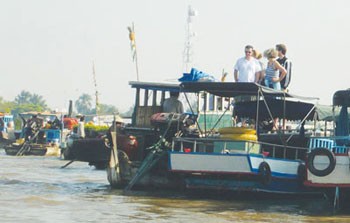 Tourists visit Cai Rang Floating Market in Can Tho City. To keep visitors coming back, the Mekong Delta tourism sector needs to diversify tour packages and highlight each province's strongest attractions. (Photo: SGGP)
Thus, most tourists who visit, never return.
The Mekong Delta is a large and heavily populated region with a warm climate and few natural disasters. In addition, its natural beauty and abundant waterways makes the area an attractive eco-tourism destination.
However, experts say these attributes have not been taken advantage of. According to the Ministry of Culture, Sports and Tourism, the number of visitors to the Mekong Delta in 2008 accounted for just 8 percent compared to other regions visited in the country.
On average, foreign tourists spend just one day in the region while Vietnamese tourists stay an average of two days.
In 2004, the Tien Giang Tourist Company began offering fishing tours. One week later, other eco-tourism companies began offering the same packages.
Now, visiting fruit gardens, rowing boats, fishing, and traditional music performances appear as part of nearly every tour.
This has led to unhealthy competition amongst businesses who try to offer the lowest prices and ultimately end up sacrificing service.
At a seminar on sustainable development for Mekong Delta tourism held recently in Can Tho, Dr. Dinh Van Hanh from the Vietnam Institute of Culture and Arts, Ho Chi Minh Sub-Institute said that because most tours are the same, travelers have no reason to return after their first visit.
To address the lack of creativity, HCMC tour operators proposed developing an excursion that would take visitors through more of the Mekong Delta provinces, highlighting the different attractions of each area. Moreover, each province would benefit financially.
However, the program failed to take flight as many thought it would be too expensive to instigate the tour and companies didn't like the idea of sharing profits. 
Cultural, historic attractions overlooked
The Mekong Delta lacks an abundance of famous landscapes as compared to the central and northern regions. However, it boasts many interesting architectural works and historical relics like Doi Pagoda in Soc Trang Province, Binh Thuy Communal House in Can Tho City, and Ba Om Pond in Tra Vinh Province to name a few.
According to statistics from the Ministry of Culture, Sports and Tourism, the Mekong Delta has 150 national cultural and historical relics in all.
In addition, the region hosts traditional festivals like Chol Chnam Thmay, Dolta, and Ha Xan.
But experts say businesses have failed to realize the area's potential cultural attraction in creating tours with variety.
According to Dr. Pham Trung Luong, deputy head of the Institute for Tourism Development Research, tourism development strategies should be tailor-made for each locality.
For example, Long An, Tien Giang, Ben Tre, and Dong Thap provinces should focus on tours to cultural and historical relics and trade villages.
Meanwhile, Vinh Long, Can Tho, Tra Vinh, Hau Giang, Soc Trang, Bac Lieu and Ca Mau provinces should exploit shopping, eating, and floating market tours.
An Giang and Kien Giang provinces should prioritize sea, island, and mountain tourism and facilitate trips into Cambodia and Thailand.
Only by capitalizing on each province's strengths and diversifying tours will visitors be enticed to return.