The government has approved mobilization of funds for building a new terminal at the Noi Bai International Airport in Ha Noi and construction of the Long Thanh International Airport to serve Ho Chi Minh City.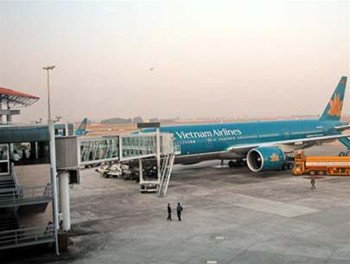 Noi Bai International Airport in Ha Noi. (Photo: Tuoi Tre)
Half the money for the terminal in Ha Noi will be sourced from a loan from the Bank for Investment and Development of Vietnam, and the rest from other commercial banks. The government will guarantee the commercial loans.
The new terminal, designed to handle 10 million passengers a year, is expected to cost US$849 million and finish in 2011. The existing terminal, capable of handling six million passengers a year, will then become a domestic terminal.
Noi Bai plans to expand further to handle 25 million passengers by 2020 and 50 million by 2030.
State-owned companies will contribute 70 percent of the cost of building the Long Thanh international airport in Dong Nai Province. The rest of the funds will come from foreign and local investors.
It is expected to cost $8 billion in all.
Its $3-billion first stage, work on which began last year and will end in 2010, will see the construction of two four-kilometer runways, a terminal with a capacity of 20 million passengers a year, and other facilities.
Situated 40 kilometers far from HCM City and owned by the Southern Airports Authority, the airport will handle 100 million passengers and five million tons of cargo by 2020.