The government has agreed to inject VND5,000 billion (about US$312 million) into a project restoring the Thap Cham-Da Lat railway system, one of the unique mountain railways in the world.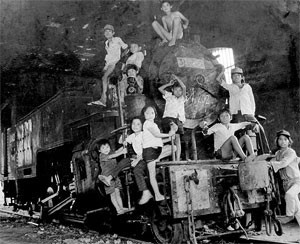 Da Lat Train Station in the old days (File photo/FULKA)

The 84 km long railway linking Phan Rang-Thap Cham city in Ninh Thuan Province and Da Lat city in Lam Dong province will be restored from 2007 to 2015.

The French-built railway was opened in 1928. But this line was destroyed in the war and abandoned in the late 1960s. Seven kilometers of the track between Da Lat and Trai Mat has been reconstructed and operated for tourism purpose since 1997. Currently, the station is one of the attractive tourist destinations in Da Lat.

The Da Lat railway station was recognized as a national historical and cultural site in 2001. And it was also considered the nicest ancient railway station in all Indochina.

The government also allowed the private sector to take part in the re-construction of the railway, as the entire railway will be restored to its original state.

Once finished, the railway is expected to boost tourism in Lam Dong, Ninh Thuan as well as coastal central provinces.