En cave is one amongst tens of caves in Phong Nha-Ke Bang National Park in the central province of Quang Binh, recognized as one of the most beautiful caves in the world by National Geographic magazine in its March issue.
According to researchers, En cave has been home to the A Rem ethnic group, one of the smallest ethnic groups in Vietnam, for hundreds of years.
During war time, soldiers found that the ethnic minority who helped them transport goods to soldiers on the battlefield, from the North to the South, traverse a network of criss-cross roads and winding paths along the Truong Son mountain range.
 
The Truong Son Trail, now called the Ho Chi Minh Road, has gone down in history as a historical memoir of the bravery, strength and firm resolve of the Vietnamese people to defeat their invaders.
The A Rem people also let thousands of soldiers use the caves as a hiding place from enemy aircrafts and to store essential goods.
En cave was severely damaged during the American war in air raids. Traces of remnants of the American war can be seen along the Rao Thuong stream.
The 1.7km deep cave has a height of 70 meters and is home to millions of swallows.
En cave is expected to be a charming new tourist destination for a large number of adventure tourists in coming times.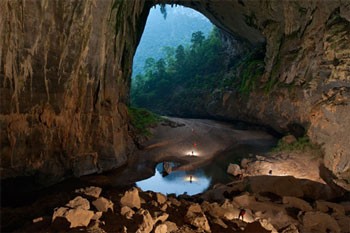 A picture of En cave taken by National Geographic
Some photos taken of the cave by Sggp newspaper: