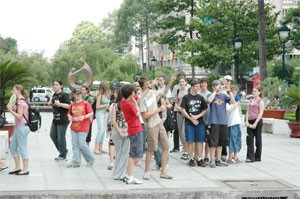 Foreigners enjoy Ho Chi Minh City view
More than 2,600 international cruise visitors will arrive in Viet Nam for Christmas and the New Year while some international airlines have announced that tickets for international flights are sold out.
The cruise ships "Spirit of Adventure" and "Costa Marina", carrying more than 1,600 European visitors will sail into Ho Chi Minh City on Christmas Day.

During their visit the ships' passengers will be looked after by Saigontourist who will treat them to a sightseeing tour of the city, as well as longer trips to HCMC's Cu Chi and My Tho in the Mekong Delta.

They will celebrate Christmas and enjoy a food festival featuring southern Vietnamese specialties in the Binh Quoi Tourist area, Ho Chi Minh City.
The ships will then travel the coast from December 26 to 30, stopping in Nha Trang, Da Nang and Ha Long.
Another European cruise ship, the "Costa Allegra", carrying 1,000 travelers, will set anchor in Ha Long Bay on Christmas day where she will stay to to welcome the New Year in on December 31st.
According to the Department of Tourism of Thua Thien-Hue Province, the number of visitors to Hue will increase to more than 100,000 people in December, 28.5 % more than the previous month. The number of visitors to the region is 10.9% higher than 2005, totaling over 1,100,000 people. Among them, the number of international visitors is over 400,000 – an increase of 19.8%.
Although the Lunar New Year is still two months away, tickets for flights to Hong Kong, Singapore and Malaysia were sold out, representatives of some international airlines said.
The Airlines only have enough tickets for 1/3 of the customers looking to travel to Hong Kong between January 17 and 21.