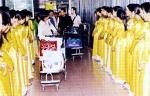 Overseas Vietnamese are welcomed at Tan San Nhat Airport, Ho Chi Minh City.
In only one week from Dec 26 to 31, over 12,000 overseas Vietnamese, among 43,500 international visitors, arrived Viet Nam at Ho Chi Minh City's Tan San Nhat International Airport to enjoy the lunar New Year.
The number of overseas Vietnamese who returned home this week increases by over 3,000, compared with that of last week.
Moreover, over 100,000 overseas Vietnamese (Viet kieu) will come home for the lunar New Year holidays, named Tet, in Viet Nam from Dec. 20, 2005 to Feb. 28, according to the Overseas Vietnamese Committee in Ho Chi Minh City. The number increases by 40% from last year.
Besides the necessary improvements in facilities, the Police Office of Tan Son Nhat Border, the Ho Chi Minh City Tourism Department, Vietnam Airlines and the Tan Son Nhat Customs Office plan to welcome visitors with a "polite, considerate and of high esteem" spirit in order to create a good impression of Viet Nam's land and people.