The construction of a 600-hectare tourist complex on land reclaimed from the sea in Ho Chi Minh City's outlying district of Can Gio was started this morning.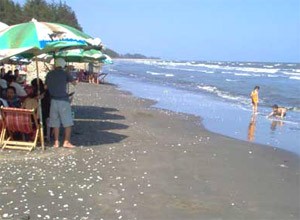 Part of this beach in Can Gio District will be filled in to build a tourist complex
The project whose investment scale ranks third in Southeast Asia is the first of its kind in Viet Nam to use land reclamation to develop tourism.
 
The Sai Gon Tourist Corporation will invest US$500 million in the project, VND2.8 trillion (US$175 million) of which will be used for reclaiming two kilometers of land now undersea off Long Hoa Commune.
 
The complex is to cover 600 hectares, 200 hectares of which will go to an artificial beach and the remaining to five-star tourist facilities, super markets, luxury entertainment facilities, villas, verdant parks and residential areas for over 20,000 inhabitants.
 
The project is scheduled to be implemented in three to five years by US, Australian and Chinese construction companies, with about 25 million cubic meters of sand to be used to level the sea.
 
The plan to reclaim the land from the sea was first conceived in 1990.