The Ha Noi Tourism Department has chosen 109 quality guest-houses to serve APEC 2006 meetings. Among them, 27 guest-houses with 2,000 bedrooms will be upgraded to three-star hotels, Ms. Cao Thi Ngoc Lan, deputy director of the Ha Noi Tourism Department said.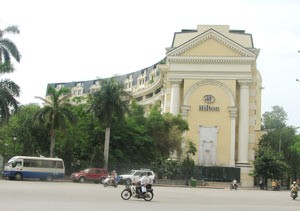 Ha Noi Hilton Hotel was chosen to serve APEC 2006 (Photo: TC)
The Ha Noi Tourism Department has proposed that the Government aid and support the upgrade of the hotels. The People's Committee of Ha Noi and the Ministry of Finance have reached a consensus concerning the project and have submitted it for the Government's approval.

The Ha Noi Tourism Department will also offer training on APEC's history, security, fire regulations and distinguished guests to improve the knowledge of the staff who will serve APEC summit . More than 2,000 personnel will take part in the VND500 million training program in August and September 2006.

10,000 tourist brochures will be issued to give to travel enterprises and delegates who will take part in the conferences as well as intensify advertising.