Ha Long Bay has moved down to 27 in the global vote for 'seven natural wonders of the world,' organized by the NewOpenWorld, the management board of the bay announced September 3.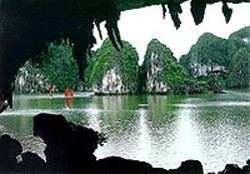 A view of Ha Long Bay
Kilimanjaro in Tanzania is currently first, at the second and third places respectively are Jeju Island, South Korea, and the mud volcanoes of Azerbaijan.
Within the last 15 days, Ha Long has fallen 23 spots from its peak of fourth to stand at 27, coming nearly bottom in a list of 28 landscapes.
The voting for the New 7 Wonders of Nature will continue until 2011 when the results will be announced.