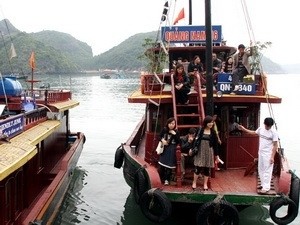 Vietnam News Agency file photo for illustration
The sea tourism route from Ha Long city in the northern province of Quang Ninh to Fangchenggang city in Guangxi province, China reopened on April 11.
Director of provincial Department of Culture, Sports and Tourism, Ha Quang Long said the inauguration ceremony of the route is expected to take place on April 12 at Hon Gai Vinashin Port in Ha Long city.
Tourism promotion conferences will also be held to create favourable conditions for the two cities to introduce their potential, strength and tourism cooperation opportunities.
The resumption of the sea route, initially scheduled for Dec 2010 but delayed until now, embodies development in the two cities' multifaceted cooperation, especially in sea tourism.