A big wave of investment in five-star hotels is taking place in Viet Nam's capital, aiming to meet the accommodation requirements of visitors, according to the Ha Noi Department of Tourism.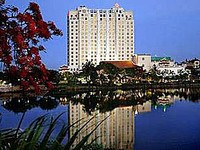 Five-star Sheraton hotel in Ha Noi
Ha Noi is one of the most attractive and beloved destinations in Viet Nam, and is now the center for MICE tourism in the region.

Readers of the U.S. Travel and Leisure magazine voted Ha Noi as the sixth most attractive city in Asia. MSN network readers have also chosen it as the third best culinary city in the world. In addition, De Loitte & Touche LLP rating company ranked Ha Noi as having the third highest number of hotel rooms of any city in the world.

Statistics show that Ha Noi has over 500 hotels/motels available to travelers, totaling more than 12,700 rooms. Of which, there are only eight five-star hotels, six four-star hotels and nearly 20 three-star hotels.

Hotels with more than 50 and 100 rooms account for just 8.87% and 3.63% of accommodation. According to the tourism development plan for 1997-2010, it is estimated that Ha Noi will receive two million international visitors by 2010 and therefore the city will be short 13,000 hotel rooms, especially in 3-star and 5-star accommodation.

The increasing number of visitors to Ha Noi requires the local authorities to concentrate on improving infrastructure and the construction standard of hotels.
Ms. Cao Thi Ngoc Lan, Deputy Director of the Ha Noi Tourism Department said that the People's Committee of the city has recently approved five high-grade hotels with more than 2,000 rooms. Investors from Korea, Japan and China, at a total investment capital of US$1,242 million, have invested in projects in the districts of Tu Liem (three projects), Thanh Xuan and Cau Giay. Several hotel projects have also resumed after a period of interruption.