Last week in the Northern Province of Ha Tay, construction began on a village destined to become a living exhibit, illustrating the daily life and customs of ethnic minorities living in the region.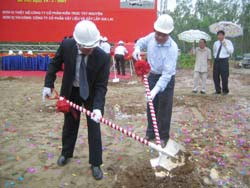 The groundbreaking ceremony took place on May 19.
Covering an area of 198 ha, the village will recreate the daily activities of local inhabitants, including the manufacture of production tools and handicraft products and wet-rice cultivation.

It will also offer a glimpse into the culture, traditions and religious architecture of the 54 ethnic minority groups living there and act as a gathering point for local festivals and sport activities.
The village is part of a project entitled "Viet Nam Ethnic Culture and Tourism Village", approved by the government in 1997. It is expected to welcome visitors as a national cultural center in 2020.